We love our PCB shirts!
Here are saxophonist Cherie Baker and oboist Karen Washburn (with percussionist Erika Barthelmess in the background) happily modeling their Band shirts in the audience at the Lake George Community Band Festival in July, 2015!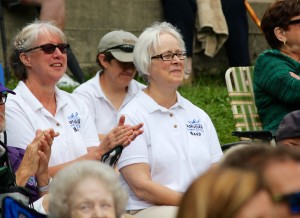 If you would like to order a shirt, please email Karen Washburn, our Shirt Captain, at momswash@twcny.rr.com for more information.
Sizing info: